← Back to portfolio
Star, Fallen (Journalism)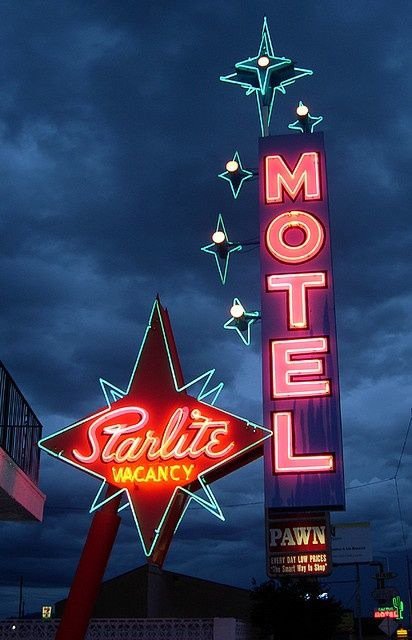 Star, Fallen
by Deborah J. Wolfinsohn
As a kid, my idea of exotic was a spectacularly out-of-place neon sign lighting a flat stretch of Midwestern interstate between Madison and Chicago. Rising above the silos in the night, this giant red martini glass with its blinking green olive gave me the strangest, loneliest feeling ever. And I loved it.
I always resisted sleep so I could catch a glimpse, despite my mom's trick of playing John Denver cassettes on repeat. Maybe because it promised a weird, devilishly adult kind of mystery, a sort of cornfield noir, or maybe because it was the opposite of Madison, Wisconsin, where I lived, a place where everything was so earth-toned you could puke. 
In Texas, where I live now, there is a nightly parade of neon that brings back all the old feelings. The Dart Bowl's giant pin. The grinning genie lording over his car wash. The Top Notch hamburger. The pastel hat above El Patio, a family restaurant on Guadalupe, a place so bona-fied Old School Tex Mex that the chips and salsa come with a side of butter and the waitresses call you "hon" non-ironically.

But today, one sign is missing. One that towered over the rest like a blinking candy colored giant in the sky. The greatest one of all.
The Stars. 
The Stars Inn sign was torn down last week, without any warning. The demolition crew probably didn't even think twice. I wish I could have been there as a witness. I wish I could have told them this story.
                          * * *
When I first moved to Austin, I lived in a residence hotel and worked as a waitress at Las Manitas Avenue Cafe, where I got stuck with opening shift because I didn't know enough Spanish to protest. 
So, every morning at five, Cafe Bustelo speeding my heart, I drove our poky Volvo along the deserted upper deck of I-35, rehearsing my "I quit" speech and imagining how good it would feel when I left this strange place where churches advertised on billboards and every road had seven different names. 
Until I saw that sign. 
Rising like the bastard cousin of the Holiday Inn, a thing so spectacularly colorful and crazily optimistic I almost drove off the bridge because I couldn't stop watching its candy-colored lines zooming skyward, sparking tiny stars that fizzled like fireworks. 
That sign helped me stick to my guns. That sign gave me a reason to stay. That sign was so ridiculously cheerful, it was almost embarrassing, considering it hung over a sad, dirty motel and a strip club called Crazy Ladies. 
Things are going to change, the sign whispered. Don't give up.
And I didn't. 
And life improved, dramatically so. I moved out of the residence hotel and into an old yellow house with sky-blue ceilings and a basement full of mason jars and rusty tin toys. I planted a garden, quit waitressing, worked my way up from secretary to reporter, got married at City Hall and adopted a puppy at the pound. I learned about eating tacos for breakfast and how to wave at people when you merge in front of them and that Guadalupe is pronounced gwa-da-loop-hey. And even though I had stopped depending on it, I always thanked the Stars Inn sign when I passed.
And then, one day, it was gone.
—May 11, 1995